U-Bend Stainless Steel Tubes for Heat Exchanger
parameters1:
parameters2:
parameters3:

U-Bend Stainless Steel Tubes for Heat Exchanger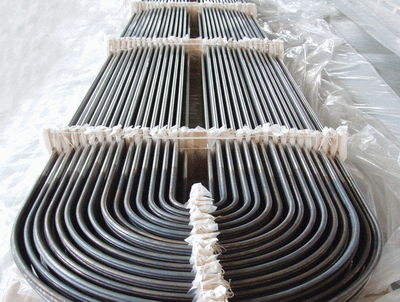 Tube bending line, that will allow to produce U-tubes as per such standards:
1. ASTM A688 A688M
2. ASTM A803 A803M
3. ASTM A556 A556M, ASME SA 556
4. ASME SA 688
Initial Length:Maximum lengths of 27000mm can be supplied on request
Bending radius: Maximum 1000 mm
Heat treatment of the bend:U bends with a bending radius up to maximum of 1000mm can be heat treated on request
The basic Testing and processing:
1. High Pressure Hydrostatic Test:Minimum:10 Mpa-25Mpa.
2. Air Under Water Test After Bending
3. U Tubes Wall Thickness Test
4. Eddy Current Test before U bend Formed
5. Ultrasonic Test before U bend Formed
6. Heat treatment to stress relieved
7. Ball passing test
Grade(UNS): Austenitic Stainless Steel:
304/304L/304H(1.4301/1.4306/1.4948); 316/316L(1.4401/1.4404); 316Ti(1.4571); 321(1.4541); 309S (1.4833); 310S(1.4845); 317L(1.4438)321H(1.4878); 347H (1.4550);
Duplex Stainless Steel:
S32001, S32003, S31500, 2205(1.4462); S32304,(1.4362);S31803,2507 (S32750), S32760(1.4501);S32101(1.4162);
Super Austenitic Stainless Steel: 904L, S30432, S31042, 6Mo (S31254, N08367)
Nickel Base Alloy:
Alloy 20 (UNS N08020), Monel 200 (UNS 02200), Monel 400 (UNS N04400), Incoloy 800 (UNS N08800), Incoloy 800H (UNS N08810), Incoloy 800HT (UNS N08811), Incoloy 825 (UNS N08825), Inconel 600 (UNS N06600), 4J29, 4J36, GH3030, GH3039, C276 (UNS N10276)
Martensitic Stainless Steel:410(1.4006), 410S(1.4000), 420(1.4021)
Ferritic Stainless Steel:405(1.4002), 430(1.4016)
| | |
| --- | --- |
| | |
| Outside Diameter: | 15.8 16.0 17.0 18.0 19.05 20.0 21.3 25.4 26.7 31.8 32.0 38.1mm |
| Wall Thickness: | 0.50 - 6mm |
| Standards(Norm): | EN 10216-5; DIN 17456, DIN 17458, DIN 2462, DIN 17455 |
| | GB/T14975; T14976; T13296; GB5310; |
| | ASTM A213, A269, A312, A511, A789, A790, A928, A999, A1016, ASTM B161, ASTM B163, ASTM B165, ASTM B167, ASTM B338, ASTM B407, ASTM B423, ASTM B444,ASTM B619, ASTM B622, ASTM B626, ASTM B668, ASTM B677, ASTM B829 |
| | JIS G3459, JIS G3463, JIS G3446, JIS G3447, JIS G3448, JIS G3468 |
| | GOST 9940;GOST 9941; |